Coronavirus is certainly on everyone's minds, and in lots of adult conversations. We need to be careful not to let our children get caught up in developing anxieties and feel panicked around a topic every night on the news and one they may not understand very well. 
Seven Sharp has a helpful clip about how to explain the virus to children in a way that is true, but not alarming. Please click on the link to read through Nanogirl's tips for talking to kids about coronavirus without making them worried.
Please click on the link for a video 'Coronovirus Explained (For Kids)', by Dr Michelle Dickinson (aka Nanogirl), that explains coronavirus, washing hands etc for kids.
As advised in last week's newsletter, at last Tuesday's Board Meeting the Pandemic Policy was reviewed. Please click on this link to read the updated policy. 
Should the spread of Covid-19 mean that we are directed by the Ministry of Education to close down,  we will keep you informed via group emails, our new website and our Teachers will communicate directly to their classes through SeeSaw.
It is important that people stay away from work, school and being out in public, if they are sick.  If we've got a bit of a runny nose or a sore throat, we might have elected to go to work because it's not too bad, or we might, if your child is slightly unwell, have chosen to send them to school. Although it is often common to soldier on, it is now the time to introduce stricter measures. All of us have a role to play in stopping the further spread of Covid-19. 
We require anyone who is unwell to stay home, to help keep the rest of our community healthy. Children showing flu-like symptoms should be kept at home, in accordance with our School policies. 
If you are concerned that someone is showing symptoms of fever, cough or shortness of breath, your first step is to ring Healthline (0800 358 5453) or contact your GP by phoning ahead of their visit, to explain symptoms and travel history.  Healthline's dedicated COVID-19 number, 0800 358 5453, is free and available 24 hours a day, 7 days a week.
Please keep our school office informed if you are travelling overseas. 
Please take care of yourself, your whanau and your community. It is important that we all continue to be alert but not alarmed. Thank you for your support.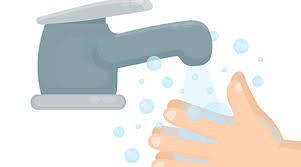 Survey on Learning, Succeeding and Thriving in Education (Kia tū rangatira ai)
In an email sent home last week, we advised that our school had decided to participate in a strengths-based research project about how students learn, succeed and thrive at school. 
We have elected to have our Year 3-6 students complete the questionnaire as a homework activity rather than undertaking the survey during school hours. The rationale behind this decision is that we believe this is a great opportunity for our parents, caregivers & whanau to be involved, as well as provide support to their children. We will also be sending home a separate 'Family/Whānau Questionnaire' to all families. The surveys will be sent home with your children next week.
If you do not consent for your child to participate in this research project, please email the school office.
Completing these surveys will help our school to find out more about how our students develop positive attitudes, engagement and aspirations towards school, and who their role-models for success are. Overall the questionnaire will help us to better understand the personal, teacher, whānau and community factors that positively impact our students learning and success at school.
Thank you for your assistance.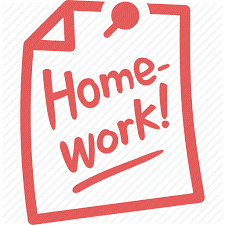 Learning Conferences – Wednesday 25th  & Thursday 26th March
Research shows that for students to get the best out of their schooling years, a strong partnership between school and home is very important. We are so lucky at our school to have such strong partnerships and we look forward to hosting our Learning Conferences on the Wednesday and Thursday of Week 8. 
Our Learning Conferences (Parent Teacher Interviews) will run from 2.30pm through to 7.00pm on Wednesday 25th March and from 3.00pm till 4.30pm on Thursday 26th March.  
Please note:- On Wednesday we will be having a shortened lunch hour and the school day will finish at the earlier time of 2.00pm. The bus will be running half an hour earlier and After School Care will also start half an hour earlier. 
Normal school hours will resume on Thursday 26th March, with our learning day concluding at the usual time of 2.30pm. Conferences will start after this. 
We apologise for any inconvenience caused by our early conclusion of learning on the Wednesday. 
Our Maungatautari students will be returning to school to participate in their 3 Way Conferences and Pirongia Syndicate students may be involved, if parents wish. Our Mid Year interviews will involve all of our students. 
To Book Interviews:
Bookings for our upcoming Learning Conferences to be held on Wednesday 25th & Thursday 26th March are now open.  Bookings operate on a first in first served basis. 
Please book your Learning Conference times by clicking on the links provided below. 
We suggest you allow gaps between your different children's interviews to allow time to get from room to room. 
MAUNGATAUTARI & PIRONGIA Conference link: 
TAUPIRI Learning Conference link:   
If you do not have access to the internet or if you require any assistance with your booking, please contact Lisa at the school office on 856 9238.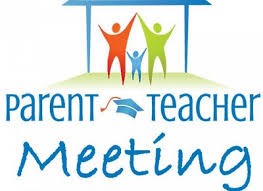 The Sweetest Way To Fundraise -Tui Bees Honey
We think that we have found an easy, delicious and healthy way to fundraise for the school. Plus we are supporting a local Waikato Beekeeper, 'Tui Bees Honey' and saving our local bees. 
Everytime one of our supporters purchases a pot of their delicious honey, Tui Bees donates 20% of each sale to the school! 
Tui Bees offers two types of honey, a Kanuka / Manuka blend & a Multiflora Manuka honey. Both are available in 500gm & 1kg sizes. They are also looking to introduce family-friendly honey packs in the future.
If you purchase any honey products, please select "Tamahere Model Country School Fundraiser" from the Fundraising drop down list which appears on the Shopping Cart page and Tui Bees Honey will donate 20% of your purchase to support our school.
Please go to https://tuibees.co.nz/ to start shopping. 
Thank you for your support!
Maungatautari & Pirongia Swimming Sports
We had such a wonderful morning watching the 9 and 10 year old swimming heats, last Thursday after Wednesday's postponement. Thank you to all our awesome parents, caregivers and whanau who joined us to celebrate our Swimming successes!  
We then held Finals for our 7,8,9 & 10 year olds on Friday. A huge thank you to our amazing parents that helped with time keeping over the 3 days – we really appreciate all your support!!
We received lovely feedback from our visitor from Sport Waikato, Kara Wharerau who was extremely impressed with the calibre of our children's swimming. Thanks again to all the parents, grandparents and supporters who cheered on our children last week! 
The high level of skill and passion shown by our students was magnificent to see. Kia Maia/Confident Can Do Attitudes shone out and the Kia Kotahi support and cheering was at times deafening. Well done everyone. 
We are very pleased to be able to share this years Finals results and impressive times achieved: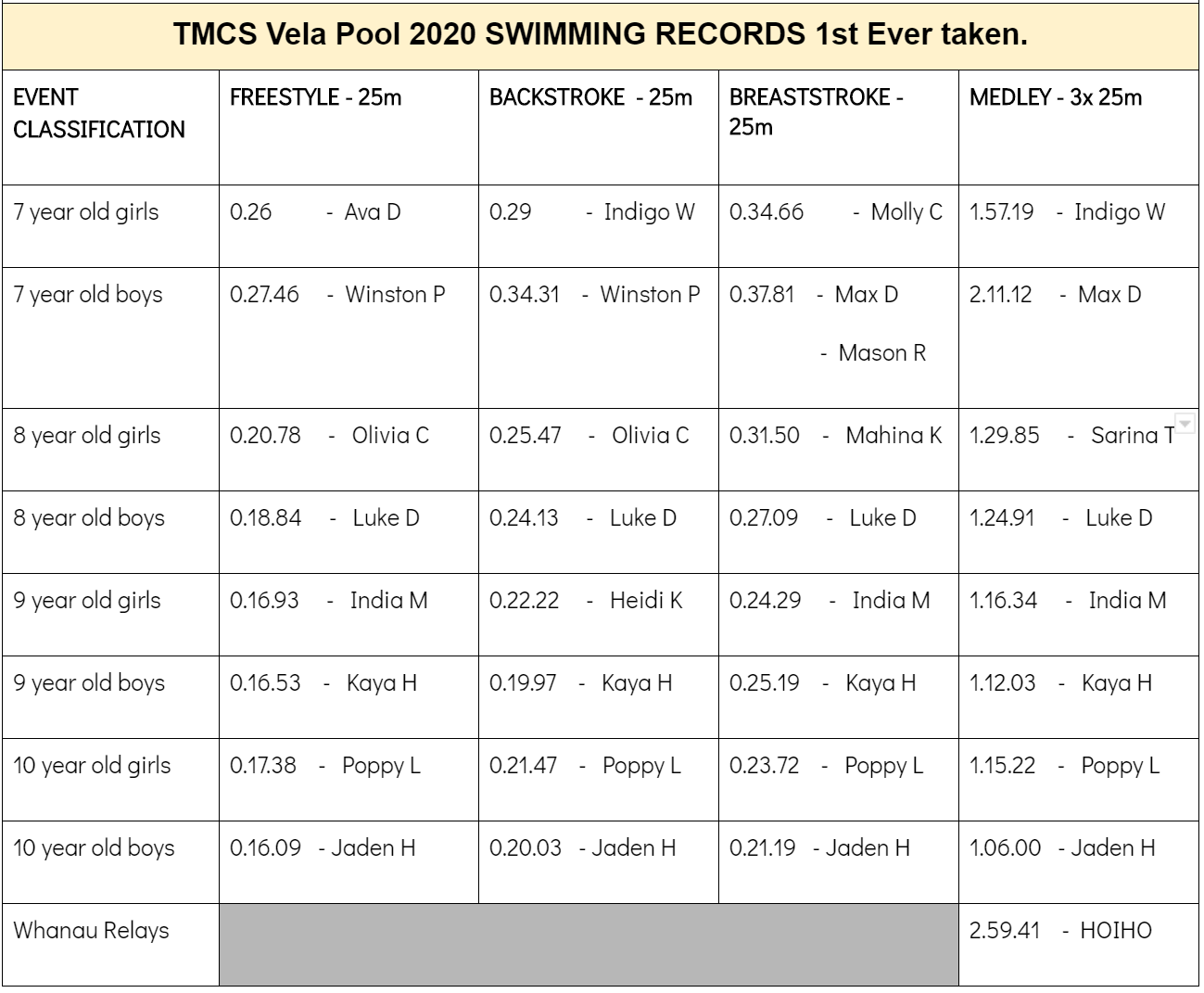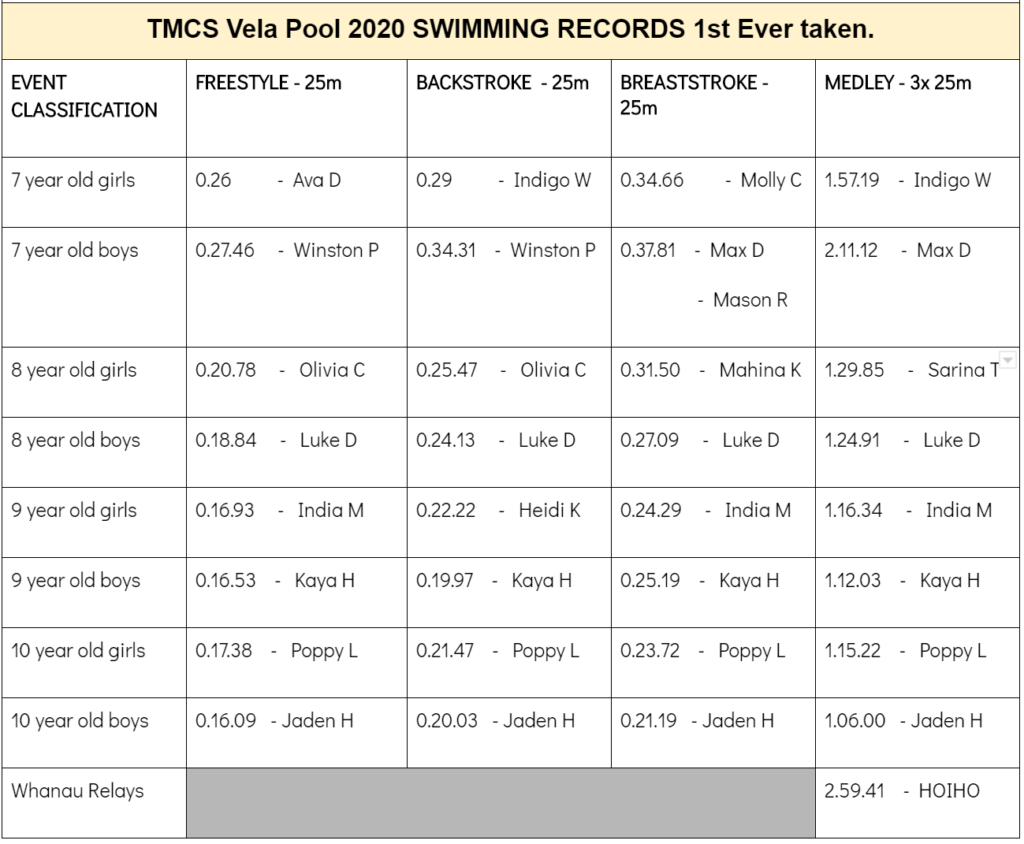 9, 10 & 11 Year Old Swimming Heats
Maungatautari Campers Going Well!
We farewelled our senior campers on Tuesday, as they made their way to Camp Tui Ridge, located in the Mamaku Ranges, for their much anticipated camp!  Over the 4 days, our Year 5 & 6 students will be taking part in numerous activities including Orienteering, Archery, Top Team events, Confidence Courses, High Ropes and Camp Outs. 
We look forward to sharing our fun photos with you next week.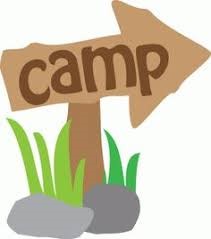 What a fantastic turnout we had last week at the Country Cluster Tabloids for Year 0-2, over 320 children participating in the event.  The children displayed perseverance, enthusiasm and a 'can-do' attitude, having a marvellous time.  
A huge thank you to Tania Sherwin and her wonderful team of helpers for organising and running the sausage sizzle!!!
We have had one offer of help for picking up the Friday lunches from Cambridge but they are not able to commit to every week, so for Subway lunches to be able to continue next term, we desperately need some more offers of help please.
Please contact the office or email hwilson@tamahere.school.nz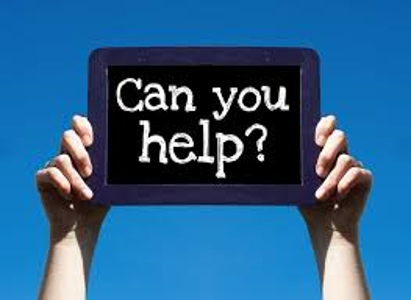 We have received several reports of head lice in various classrooms and we ask that all parents make a concerted effort to check their children over the coming days.
Nits creep up on us and love squeaky clean hair, so please check heads regularly and try to break this cycle. Please notify your teacher immediately if head lice/kutu is found. It is important so that the situation can be monitored. 
For more information about head lice, please visit https://www.health.govt.nz/. If you require further assistance, please contact your local pharmacy or Public Health Nurse (details are available at the school office)
Thank you for your assistance and cooperation.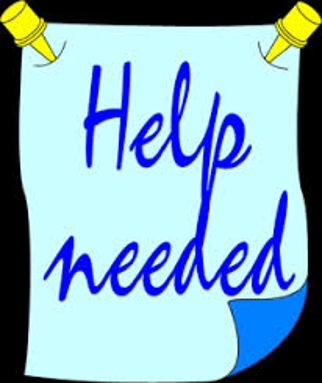 Thanks to all families who have already put their names down to help and have brought along items to donate to Pumpkin Night 2020.
WE ARE NOW COLLECTING…
DRINKS: 500 ml bottles or standard sized cans of fizzy drink, water, juice drinks. Low or zero sugar also wanted.

WRAPPED LOLLIES: Must be wrapped in wax paper, e.g., Fruit Bursts.

CHOCOLATE BARS: Small bars of chocolate (NO NUTS PLEASE)

CLOTHING: Good quality label secondhand clothing and accessories. This all must be washed and ready to sell.

KIDS BOOKS: Good quality children's books – no adult books needed this year, as we have many left from last year's donations.

SOFT TOYS: Please bring along clean and good quality soft toys to have as prizes.
As soon as you are ready to deliver items to school, please drop them off to your child's classroom, labelled with your Whanau, so that points can be awarded. The top class who gets the most points will be rewarded with a treat(to be negotiated)!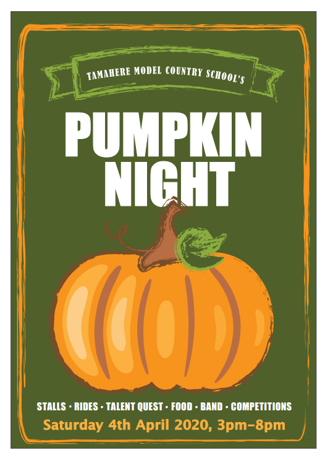 Taupiri Swimming Celebration – Change of Start Time & Date
To celebrate our current learning and the growing abilities of all Taupiri students, we will be hosting the Taupiri Swimming Celebration on Thursday the 19th of March. 
As the pool water temperature is pretty cold at 8.45am, the events will now commence from 11.00am.
All children will be involved in a variety of swimming races showcasing the skills they are proud of. Year One's will showcase their talents starting at 11.00am followed by Year Two's from 11.45am. More information will be shared by classroom teachers prior to the event.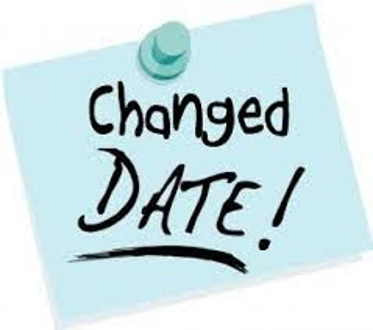 Next Friday, the 20th March we are again hosting the Country Cluster Schools Swimming Sports at the Vela Pool Complex. Visiting schools will start to assemble from 9:30am. At 9.45am our participants will be welcomed and the day's programme will be explained.  Heats are due to commence at 9:50am, starting with 7 year old boys Freestyle. We are operating a similar order of events as last Friday's Final's programme. Lunch is at approximately 12:10pm or at the end of the heats. Finals will be due to start at approximately 12:40pm, followed by Relays to end the day.
We welcome all whanau to come along to enjoy the day and support their child.
If you have any queries, please feel free to contact Ann Marie Coppini on acopponi@tamahere.school.nz.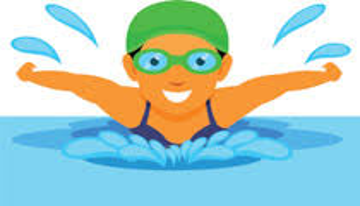 This week, every Year 4 student should have received information and forms about camp next term; please let your child's teacher know as soon as possible if you have not received these. Please take the time to read, complete and return the forms by Tuesday 24th March. There was also a form for those parents who are wishing to come to camp with us as an adult helper, that can be completed and also returned by the 24th March. If you have any questions regarding camp, please see your child's teacher or pop in and see Leah Mills (Syndicate leader) in Kauri 2.

PTA Meeting – Tuesday 17th March at 7pm
In last week's newsletter, we advised that the next PTA Meeting was being held this Tuesday. However this has been rescheduled to Tuesday 17th March at 7.00pm in the library, due to our Year 5 and 6 students being away on camp this week.
Everyone is welcome!!
Leah Shallcrass
TMCS PTA